Garbage and Recycling Collection
Serving Southern Alabama and Southern Georgia
Mark Dunning Industries is pleased to offer our award-winning trash collection and garbage removal services throughout the Southeast region. We perform our services with State of the Art Equipment, operated by highly skilled waste handling experts. Even though it's a dirty job, we are dedicated to providing each and every customer with Trash Hauling to its finest!
State-of-the-Art-Equipment
As part of our commitment to exceptional customer service, we equip all of our trucks with the latest GPS tracking & location systems. We also equip specific trucks with video camera systems that provide real-time streaming and imaging.
For residential garbage, trash and recycling collection and disposal for municipalities, counties and Military Family Communities in the southeast, please contact our main office below.
Service Details & Contact Information
MDI provides one 95-gallon container on wheels with once a week collection. Additional 95-gallon containers are available from MDI for an additional fee. Residents are asked to place containers at the curb the night prior to the scheduled collection day as routes start as early as 6am.
Our Rear Load Trucks are modern and outfitted with top of the line compaction bodies.
We offer various sizes of Roll Carts for Refuse Collection, from 40-95 GAL Container.
We offer various Sizes of Recycling Bins for Recycling Collection, from 12-34 GAL Containers. (in some areas)
Yard Waste and Bulk Item Collection is available. (in some areas)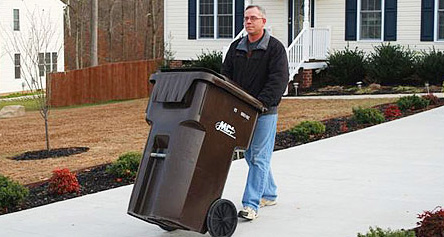 DOTHAN OFFICE
Mark Dunning Industries, Inc.
100 Racetrack Rd.
Dothan, AL 36303
Office: (334) 983-1506
Toll Free: (800) 848-8493
95 Gallon Cart Collection
MDI can collect your town or municipalities 95 Gallon carts via Curatto Can collections.