Five Key Questions That Can Help You
When is a roll-off container considered overfilled?
A roll-off container or dumpster is considered overfilled if it has anything extending above the container wall height or if the back door cannot be shut due to it being open while loading.
What happens if the container is overfilled?
An overfilled container is illegal to haul away. In order for the container to be legally hauled away, the material inside must be rearranged, which is the customer's responsibility, so that it does not exceed the wall height and to make sure the back door can be shut.
What is MDI's standard practice when handling overfilled roll-offs?
In most cases MDI will be forced to leave the container. We will contact you with instructions on rearranging the waste so that it does not go over the wall height, and charge you a $80 – $200 "Dry-Run" fee for not being able to legally haul the container.
What is a DRY-RUN Fee?
A "Dry-run" fee is assessed by MDI if a roll-off container or trash bin cannot be picked-up, or dropped-off as scheduled due to reasons beyond our control. Some, but not all reasons include:
Debris filled above roll-off wall height.
Overweight container.
Items or vehicles blocking access to pick up or drop off a container.
Low power lines or tree branches.
Inaccessible driveways or parking lots due to locked gates or any other reason.
Back door was left open during loading and cannot be shut due to overfilling.
Why is keeping a roll-off container from being overfilled important?
Overfilled roll-off containers are a serious matter that some clients and waste removal companies tend to overlook. When debris fall out of an overfilled roll-off container during transit it can become a roadway hazard that may cause accidents, injury or property damage. There have been numerous fatalities involving other motorists, or pedestrians, due to overfilled or overweight roll-off containers.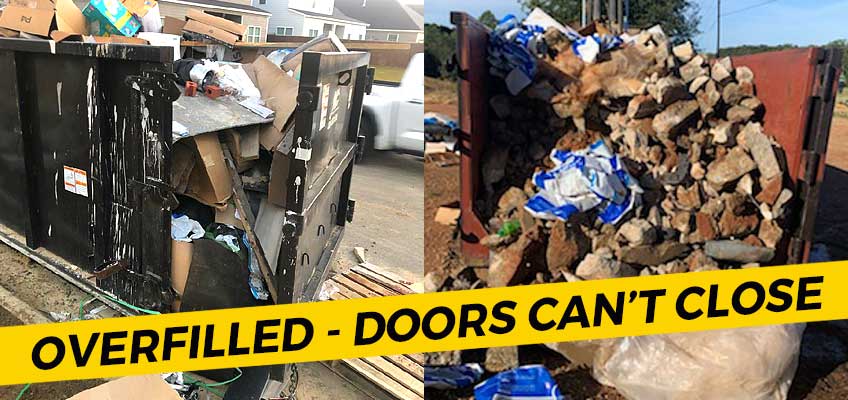 Over 40 years of Excellent Customer Service
MDI is well-known for great customer service which is why we want to help our customers avoid safety, legal and financial issues regarding overfilled roll-off containers. As a customer, you are liable and responsible for this expense, which could amount to thousands.
Give Us A Call – 334-983-1506
Feel free to contact us with any questions or concerns about overfilled containers before your scheduled pick-up day.